Reflections
by Pastor Doug Kings
Our 1800-mile trip from Florida to New Mexico was thankfully uneventful. Towards the end, however, we became aware that Emma, one of our two dogs, was not well. So, first thing the morning after we arrived, Joe took her to the vet, expecting a simple diagnosis and prescription for an antibiotic. No. Instead, we were stunned to get a preliminary verdict of a malignant tumor.
An examination by an oncologist a couple days later confirmed that diagnosis. The chemotherapy we have just begun will slow the cancer but not stop it. Our much-anticipated return to New Mexico, then, is bittersweet. We (including our other dog, Lana) are enjoying our time together in our new home but also preparing so say goodbye to our wonderful companion of the past ten years.
Many pet owners will say the death of a pet is as painful as that of a person. It can be even worse because the love between a pet and a human is unconditional in a way most human relationships can't achieve.  For that reason, some will not get another pet to avoid having to go through the experience again.
While the decision to get a pet is always personal, I think that alone is an unfortunate reason to deny oneself the companionship and adventure living with an animal brings. The unconditionality of their love, and their near total dependence upon us, are unsurpassed experiences providing us with a school in life.
For many, avoiding pain is a life rule, including the pain of grief. But that avoidance is impossible because pain and grief are inevitable consequences of living and loving. The Buddha had two profound insights about this. The first is that life is suffering. And the second explains the first: existence is impermanent, i.e., nothing lasts.
Some become bitter when they realize the truth of these blunt statements. For the Buddha, however, this realization is the key to true peace and contentment. Everything in life can be cherished, even loved, but all relationships are held loosely, in awareness that existence is a perpetual dance of coming, evolving, and going.
This same understanding is reflected in this famous teaching of Jesus in the Sermon on the Mount.
"Therefore I tell you, do not worry about your life…. Look at the birds of the air: they neither sow nor reap nor gather into barns, and yet your heavenly Father feeds them. Are you not of more value than they? And which of you by worrying can add a single hour to your span of life? And why do you worry about clothing? Consider the lilies of the field, how they grow; they neither toil nor spin, yet I tell you, even Solomon in all his glory was not clothed like one of these…. So do not worry about tomorrow, for tomorrow will bring worries of its own. Today's trouble is enough for today."
The central teaching of our book group author, Eckhart Tolle, is living in the now, the present moment. This, of course, is exactly what Jesus is teaching here. It would be easy for Joe and me to obsess about Emma's approaching death, but what a waste that would be. And how unfair, for she is very much alive and with us. Instead, we need to love and enjoy her and provide for her needs each day just as we did before.
We've known "that day" was coming from the day Emma entered our life. But we know that for everyone we love, as well as for ourselves. Foolishly our culture believes it's somehow better to not think or talk about death. But the Buddha was right: denying our impermanence and that of those around us only leads to worse suffering than the experience itself.
Christianity has been wiser than our culture about this, especially in its emphasis on the cross (though it has often been distorted by manipulative preachers). "You must lose your life in order to find it," Jesus taught. That wisdom is reflected in the stark ritual of Ash Wednesday: "Remember you are dust and to dust you shall return." There's a reality check for you.
But all our relationships, and all of life for that matter, provide opportunities to awaken us to the "more than" of existence. This "more than" can only be pointed to verbally, usually best by poets, for we are made aware of it not in our heads but in our hearts. It is the warmth and thrill we feel walking through Jesus' field of lilies or any place of natural beauty and awe. We experience it with a cat in our lap or in a dog's wagging tail. We know it walking hand-in-hand with a child or in our lover's embrace.
Memories of such experiences are the cause of our pain when they are no longer repeatable. Spiritual teacher Todd Perelmuter, in a brief but poignant video, "Coping with the Death of a Pet", says that grief is the love we can't express. As painful as it is, grief tells us that we have known love and that love is everlasting, even transcending death.
In a related video, "What Is the Essence of Every Human?", Tolle says that love, as well as the beauty of nature, are experiences of God's transcendent presence in the world. It is the "more than" of existence. For us, love is our permanent essence, in contrast with the impermanence of physical forms, including our bodies. It is, as Jesus says, the kingdom of God within us and around us. It is why Paul says that of the spiritual realities of faith, hope and love, the greatest is love.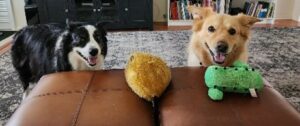 We do not experience transcendent love directly, but only in our impermanent relationships. Thus, grief is the inevitable consequence of loving. Yet it is the pain of grief that confirms how real love is and that love outlasts all things. Our sad shock helps us value all the more the gift Emma has been to us. With that awareness, asking in the midst of our pain, "Is love worth it?", provides its own answer.
Blessings in your life and ministry.