Reflections
by Pastor Doug Kings
Our online pandemic worship recordings concluded with a music video. At first, they were of traditional religious music, but we branched out as time went on. One that was especially popular was of the South African pop/Gospel dance hit, "Jerusalema." While it never caught on here in the US, nearly everywhere else there was a craze to accept the Jerusalema dance challenge: to make videos of groups dancing to the music. (Search the title and stand back for the avalanche of results.) It was a release of global happiness in the midst of the pandemic gloom.
The recording we used was by the staff—and animals—of the Wild is Life/ZEN animal sanctuary in Zimbabwe. (Click the link to watch: Jerusalema Challenge by Wild is Life.) Online comments about the video often mentioned the joy of seeing the harmony of humans and animals together. "This is how I picture the Garden of Eden" was one response. Tears were also mentioned frequently.
I love these animals and their caretakers so much that I want to cry tears of Jerusalema JOY! God Bless them all.
The video's creators added, "Dance is the language that our soul speaks!"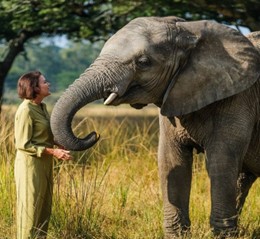 After that I began following Wild is Life on social media. Wild is Life's emphasis is on rescuing orphaned elephants. It also operates ZEN, which is short for Zimbabwe Elephant Nursery. Elephants are the largest land animal on earth and are endangered in both their native Africa and Asia homelands, mostly due to poaching and habitat loss. Saving orphaned elephants is one critical way to preserve the species.
The animals are often injured or malnourished and transported by air. Bottle feeding a herd of baby elephants is no small endeavor. Elephants are also complex social animals, making their preparation to return to the wild a long, delicate and individualized process. Thus far, Wild is Life has rescued 50 orphaned elephants and currently over 40 are in various stages of rehabilitation for return to the wild.
Wild is Life is the creation of Roxie Dankwerts, a trim, middle-aged woman of drive and dedication. She has been around animals her whole life. "My childhood was based around animals…. Animals always came first in our extended family!" Dankwerts is not only the organization's founder, chief administrator and fund raiser but often a hands-on animal care giver, prepared when needed to get "down and dirty."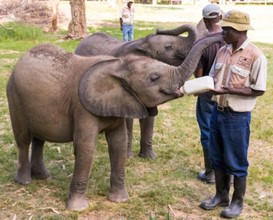 When ready, the young elephants are transferred from the ZEN nursery to their 80,000-acre protected refuge near Victoria Falls. The past few weeks Dankwerts has been telling of their preparations to move seven of their elephants (Moyo, Kura, Unity, Bumi, Coco, Sally and Sienna) to the reserve. This requires tranquilizing the animals for the daylong truck trip, which was just completed.
There are many Roxy Dankwerts in the world. I also follow online two other animal conservation efforts, one in Kenya and another in Australia. I know there are many more, large and small. They are but one subset of the countless people who have dedicated themselves to making the world a better place, often counteracting the misdeeds of their fellow humans.
I think of them when I read or hear of the political and cultural upheavals in society today. Of the shouting, name calling, and other nearly hysterical reactions to offensive issues, people and organizations. Imagine if that time and energy were directed towards the real needs and crises of our planet.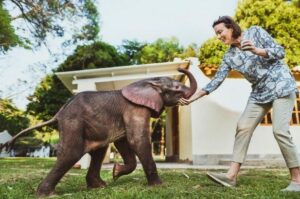 I understand people's frustrations. There is much about our nation and society that is off-track. But the anger and vitriol it generates is often misdirected, fueled by a simplistic media that only wants our constant attention. The media's relentless pot stirring requires ever more venting of our frustrations, accomplishing little or nothing.
People and organizations like Roxy Dankwert and Wild Is Life are not just "human interest" stories tacked onto the end of a broadcast. They are what life is about. There's a reason that "the good Samaritan" is Jesus' most well-known parable. It is the story of someone who thought he was going about his life when suddenly he found real life in the form of a dying stranger lying at the side of the road. He responded by "getting down and dirty", hoisting the man on his donkey and taking him to get the care he needed. Who has time to yell and rage when another's life is in our hands? For inspiration and encouragement, I close with these words of Roxy Dankwert.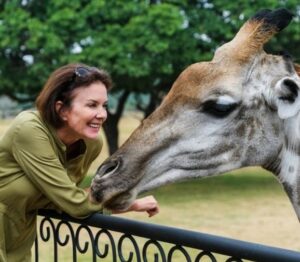 The paths we all walk at Wild is Life are filled with adventure, love, growth, empathy, compassion and optimism. We are not afraid to say that we love the animals in our care.
In these days of fast everything, heads down, phones on and busy businesses, the need for connection to the wild world is ever more important. Our planet is in crisis, yet so many people think that someone else is going to fix it! Not so? It will take each and every person who inhabits this earth to show compassion, love and a desire to change, before anything meaningful will be achieved.
We aim to inspire conservation, in whatever form that may take. We encourage humans to care about the living world around them and to feel the sentience of wild lives. We provide second chances to those who have no voice. We nurse and cherish the souls who are injured, traumatized, bereft, and heartbroken.
We care about the land as much as we do about people and animals. The land is fragile too and it is imperative that we protect, conserve and appreciate all she has to offer us. The lives that pass through our hands are truly Wild Gifts… ever precious, always valued.
I think that last sentence says it all.
Blessings in your life and ministry.