SIXTEENTH SUNDAY AFTER PENTECOST
September 25, 2022
READINGS
Amos 6:1a, 4-7
Psalm 146
1Timothy 6:6-19
Luke 16:19-31
THIS COMING WEEK AT GLORIA DEI
September 25th – Sixteenth Sunday after Pentecost
  9:30 AM  In-person worship in sanctuary
9:30 AM  Worship on Facebook
10:15 AM  Coffee & Fellowship
September 27th – Tuesday
  10:30 AM  Fall Book Group via Zoom
September 28th – Wednesday
    9:30 AM  Women's Social Gathering @ Cortez Cafe
September 30th – Friday
                Pastor's Day Off/Office Closed
October 2nd – Seventeenth Sunday after Pentecost
                First Sunday Food Collection
9:30 AM  In-person worship in sanctuary
9:30 AM  Worship on Facebook
10:15 AM  Coffee & Fellowship
Sign up here to receive eNews from Gloria Dei and keep up to date with all events occurring at our church.
NEWS & EVENTS
The recording of last Sunday's worship can be found by visiting the WATCH ONLINE tab on our website: www.gloriadeilutheran.com or our Facebook page: GLORIA DEI LUTHERAN ON ANNA MARIA ISLAND.
September 18th was our opportunity to serve at Our Daily Bread. The Gloria Dei team helped to serve 108 meals to some hungry, appreciative folks.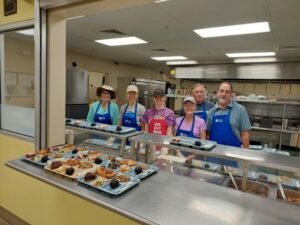 Pictured (left to right): Cindy Keene, Julie Miller, Kayley McCann (a LWR HS student), Barbara Bohner, Tom Beacham, and Bill Sand. (Bob Rathbun was also there but missed our photo op–sorry Bob!).

A week from Sunday, October 2nd, is our monthly gathering for community food pantries. As you are shopping or cleaning out your pantry next week, consider what you could contribute. Nonperishable items of any type or quantity are welcome.
PEOPLE
Gail Patsios suffered a serious fall and was briefly hospitalized. She is now back home recuperating and appreciates your prayers.
Roger Liesch is at Tidewell Hospice. Please keep Roger and his wife, Paula, in your prayers as he lives out his last days.
A longtime associate member of Gloria Dei, Bob Coulter, has died. For the last several years Bob was a resident of Freedom Village, but he will be buried with his late wife back home in Michigan.
OUR PANDEMIC PRACTICES
Sunday communion worship is held at 9:30 AM in the sanctuary. Various aspects of the service have been modified for public health reasons. Also, all our HVAC systems have been enhanced for improved air quality. Those wishing to wear masks are welcome to do so.
Worship services are also being broadcast online via Facebook on Sundays at 9:30 AM. You do NOT need to be a Facebook member to watch our services or other videos. Our Facebook page can be found by clicking here:
Gloria Dei Lutheran Church on Anna Maria Island
REACHING US
Tricia Murphy, our office administrator, is at the church Monday through Thursday from 9 to 3. You can contact her at:
941-778-1813
office@gloriadeilutheran.com
Feel free to contact Pastor Doug at:
773-412-3594 (mobile)
pastor@gloriadeilutheran.com
When the preschool is in session, only staff and children are allowed in the building. Extra efforts are being made to clean and sanitize spaces used by the preschool on a regular basis.
Thanks to everyone who continue to make contributions to Gloria Dei your continued support is greatly appreciated. You can mail your offerings, but we also have an easy-to-use online giving option.
In addition to using a credit card, you can make one-time or repeating contributions as direct withdrawals from a bank account. When you go to the site, you have the option of creating a profile to save your information and avoid needing to reenter it later. Click on the link below to make a contribution:
Gloria Dei Lutheran Church
6608 Marina Drive
Holmes Beach, Florida 34217
941-778-1813
gdlami18@gmail.com
www.gloriadeilutheran.com
Gloria Dei is a Reconciling in Christ congregation of the Evangelical Lutheran Church in America.
ALL ARE WELCOME HERE!