Reflections
by Pastor Doug Kings
Since the spring, Jessica Grose has been writing a series of "newsletters" (as they call them) for The New York Times on the changing face of religion in the United States. Her fourth such report came out last week (unfortunately they seem only to be available to NYT subscribers). It was titled, "The Largest and Fastest Religious Shift in America Is Well Underway."
Grose's first three reports focused on people's beliefs and attitudes.
In previous newsletters about Americans falling away from religion, I've talked about why so many Americans' religious identities now fall in the category known as "nones" when, just a half-century ago, nearly all Americans had some kind of affiliation. It's complicated and multifaceted, but to summarize, it's largely a combination of Christianity's association with far-right politics and the fact that being unreligious has become more socially acceptable over time.

In her newest writing, Grose shifts to looking at people's behavior. In other words, she is asking how these changing religious identities are affecting what people do. As Grose reports, the biggest behavioral change underway is declining worship attendance. She shares information from a new book written by three pastors, The Great Dechurching: Who's Leaving, Why Are They Going and What Will It Take to Bring Them Back? According to the authors,
"We are currently in the middle of the largest and fastest religious shift in the history of our country," they postulate, because "about 15 percent of American adults living today (around 40 million people) have effectively stopped going to church, and most of this dechurching has happened in the past 25 years." While the authors find that there is some variation in the rates at which different demographic groups are dechurching … every group is trending away from traditional worship…. "No theological tradition, age group, ethnicity, political affiliation, education level, geographic location or income bracket escaped the dechurching in America."
Grose received over 7,000 responses to her earlier request for personal stories of change in people's religious lives. Most of these had specific reasons for abandoning their previous religious practice. Rejection of fundamentalist beliefs, disagreement with social teachings, anger over abuse scandals, personal experience of abuse, and the rise and divisiveness of conservative politics in their congregation were the most common reasons given.
What I think Grose misses in her respondents are those who simply "drifted away" and would be less likely to write in to tell about that experience. Yet they may be the single largest group religion has lost.
For many, worship is at least partly a habit, and when a habit is broken it is often hard to resume. This happened, of course, during the pandemic lockdown. Over two years later, many churches report a worship decline of 20% or more from their pre-Covid numbers. For nearly a year, in-person worship came to a halt and when it resumed, a lot of people didn't come back. Such people may have adopted a new habit (extra sleep, a round of golf, a bike ride, going to Dunkin' Donuts) or adopted a personal religious or spiritual practice (prayer, meditation, yoga, reading, contemplative time in nature).
Grose reports that many of her responds spoke of aspect of religious life that they missed: specific rituals, religious education for their children, Bible study, social interaction. Few, however, said they missed spending an hour each week sitting in a room in rows of seats for a worship service.
Rarely is the modern decline in religion acknowledged to be a decline in interest in worship. Church leaders certainly don't want to look at this, but they need to. The popularity of megachurches only underlines this, as their "Sunday gathering" is really more a combination rock concert and TED talk, than anything recognizable as a traditional worship service. (And my reading is that interest in this also fades over time.)
What are we doing when we "worship"? It's become a hard question to answer because the God that worship was "aimed" at has changed. For most modern people, God is no longer a Being above the clouds who needs to be praised or appealed to. Yet worship's liturgy, hymns, readings, prayers, and sermons all still tend to assume such a God. That people can stop participating in such rituals and not feel bad, and perhaps even feel better, should come as no surprise.
The fifth and last part of Grose's series appeared just as I was finishing this. In it, she concludes that the greatest loss for those leaving religion is the resulting lack of community.
After months of reading about this massive change, … the one aspect of religion in America that I unquestionably see as an overall positive for society is the ready-made supportive community that churchgoers can access…. "Community" was mentioned in over 2,300 reader responses.
But churches themselves have a spotty record on community. Many people report leaving churches because of conflicts with other members or for being ostracized or ignored. "Welcoming churches" has been an emphasis across denominations throughout my ministry. Yet I still hear stories of people visiting churches (when on vacation, for example) and having no one greet or talk to them.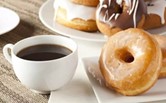 It needs to be noted that these "visits" were to a worship service. What if they went to coffee hour instead? I suspect they would have a different experience. I have often joked that on Sunday Gloria Dei has a coffee hour preceded by a worship service. I hear the laughter in response saying we know this is closer to the truth than we may want to admit.
Frankly, I think for too long churches have been trying to put all their eggs in the worship basket. Typically, worship has to have music to listen to (but what kind??), music to participate in (again??), time for quiet and reflection, liturgy, formal prayer, spontaneous prayer, preaching (which needs to be inspiring, educational, entertaining, challenging, comforting), community (passing the peace, prayer concerns, announcements, welcome visitors), and fundraising (pass the plates). It's just too much, can't all be done well, and fewer and fewer people are interested.
In the gospels, we rarely read about Jesus in worship (and there's usually some kind of disturbance when we do). We do hear a lot about Jesus interacting with people at meals and on the street. Also, Jesus never says the kingdom of God is found in the temple or synagogue but in our midst and within us.
Churches everywhere are struggling to understand religion's decline. I think they need to think harder and look deeper. What is that people really need and want from a religious community? Perhaps coffee and donuts are more important than we realize. They—or their ancient equivalents—played a pretty important role in Jesus' ministry. There may be a lesson there for us.
Blessings in your life and ministry.